Xirrus XR-7630 Wireless Array
The Xirrus XR-7630 16-slot chassis is the industry's only multi-state radio platform supporting multiple configurations with post-installation upgrade options. The Xirrus XR-7630 combines unmatched flexibility in wireless standards with the ability to scale a network to meet increasing capacity demands without adding additional devices.
At A Glance
Total Radio Slots 16
Supports 300Mbps
Maximum Wi-Fi Bandwidth 4.8Gbps
Field upgradable to more radios or new technologies
NSP Architecture for Amazing Performance
The architecture of the Xirrus XR-7630 is based upon a Network Services Processor (NSP) that delivers uncompromised performance to all associated users. The design allows for hardware based encryption, compression, acceleration, as well as reliable quality of service with uptimes and availability optimized for 802.11n performance and scalability.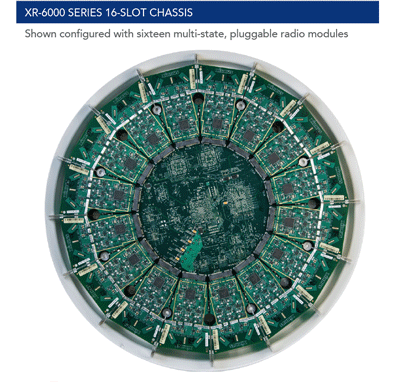 Xirrus XR-7630 Wireless Array - Technical Specifications
RF Management
In-band per IAP Spectrum Analysis
Dynamic Channel Configuration
Dynamic Cell Size Configuration
Monitor radio for threat assessment and mitigation
Wired and Wireless Packet Captures (including all 802.11 headers)
Radio Assurance for radio self test and healing
RF Monitor
High Availability
Supports Hot Stand-by Array for mission critical areas
Environmentally Friendly
Supports ability to turn off radios based on schedule configuration
Wireless Protocols
IEEE 802.11a, 802.11b, 802.11d, 802.11e, 802.11g, 802.11h, 802.11i, 802.11j, 802.11n
Wired Protocols
IEEE 802.3 10BASE-T , IEEE 802.3.u 100BASE-TX , 1000BASE-T, 802.3ab 1000BASE-T , 802.11d, 802.11i, 802.11j
IEEE 802.1q - VLAN Tagging
IEEE 802.1AX - Link Aggregation
IEEE 802.1d - Spanning Tree
IEEE 802.1p - Layer 2 Traffic Prioritization
RFC Support
RFC 768 UDP
RFC 791 IP
RFC 2460 IPV6 (Bridging only)
RFC 792 ICMP
RFC 793 TCP
RFC 826 ARP
RFC 1122 Requirements for Internet Hosts - Communication Layers
RFC 1542 BOOTP
RFC 2131 DHCP
Security
WPA
IEEE 802.11i WPA2, RSN
RFC 1321 MD5 Message-Digest Algorithm
RFC 2246 TLS Protocol Version 1.0
RFC 3280 Internet X.509 PKI Certificate and CRL Profile
RFC 4347 Datagram Transport Layer Security
RFC 4346 TLS Protocol Version 1.1
Encryption Types
Open, WEP, TKIP-MIC: RC4 40, 104 and 128 bits
SSL and TLS: RC4 128-bit and RDA 1024 and 2048 bit
Authentication
IEEE 802.1x
RFC 2548 Microsoft Vendor-Specific RADIUS Attributes
RFC 2716 PPP EAP-TLS
RFC 2865 RADIUS Authentication
RFC 2866 RADIUS Accounting
RFC 2867 Tunnel Accounting
RFC 2869 RADIUS Extensions
RFC 3576 Dynamic Authorizations Extensions to RADIUS
RFC 3579 RADIUS Support for EAP
RFC 3748 Extensible Authentication Protocol
Web Page Authentication

WPR, Landing Page, Redirect
Support for Internal WPR Landing Page and Authentication
Support for External WPR, Landing Page and Authentication
Regulatory Compliance
CE Mark Safety:
UL 60950-1:2003
EN 60950:2000
EMI and susceptibility (Class A)
U.S.:FCC Part 15.107 and 15.109
Canada: ICES-003
Japan: VCCI
Europe: EN 55022, EN 55024
Physical Specifications
Weight: 5lbs
Dimensions (WxDxH): 3.25 x 16.875 x 16.875 in.
Channel Support 2.4GHz*
1 2 3 4 5 6 7 8 9 10 11 12 13 14
Channel Support 5GHz*
Uni I - Non-DFS Channels
36 40 44 48
UNI I DFS Channels
52 56 60 64
UNI II DFS Channels
100 104 108 112 116 120 124 128 132 136 140
UNI III Non-DFS Channels
149 153 157 161 165
Management Interfaces
Command Line Interface
Web Interface (http / https)
Xirrus Management System (XMS)
Management
SNMP v1, v2c, v3
RFC 854 Telnet
RFC 1155 Management Information for TCP/IP Based Internets
RFC 1156 MIB
RFC 1157 SNMP
RFC 1213 SNMP MIB II
RFC 1350 TFTP
RFC 1643 Ethernet MIB
RFC 2030 Simple Network Time Protocol SNTP
RFC 2616 HTTP 1.1
RFC 3636 Definitions of Managed Objects for IEEE
Xirrus Private MIBs
RFC 2665 Definitions of Managed Objects for the Ethernet Like Interface Types
RFC 2674 Definitions of Managed Objects for Bridges with Traffic Classes, Multicast Filtering and Virtual LAN Extensions
RFC 2819 Remote Network Monitoring Management Information Base
RFC 2863 The Interface Group MIB
RFC 3164 BSD Syslog Protocol
RFC 3414 User-based Security Model (USM) for version 3 of the Simple Network Management Protocol (SNMPv3)
RFC 3418 Management Information Base (MIB) for the Simple Network Management Protocol (SNMP)